Better protection,
through innovation.
Seamless Security & Surveillance
Home is a tap away – know when, where, and whom your home is occupied by at any time of day or night and rest assured that you're protected with Central Home Systems anywhere, anytime.
State-of-the-art video surveillance.
View cameras from anywhere.
With mobile alerts you have the peace of mind of instant notifications and real-time video.
Smarter than traditional camera systems, our installations are internet enabled and continuously up-linked so that you won't miss a moment. You'll not only have continuous high-definition recording, but can receive alerts via text or email and customize them to your needs.
With HD quality video and improved night vision optics, our cameras provide you with crystal clear video and flawless playback. — from anywhere.
Keep an eye on your home.
Protect your property and family.
Burglaries can occur anywhere and anytime despite the diligence of law enforcement. Prevent your home and valuables from becoming another statistic for the insurance company. A proactive solution from Central Home Systems can still protect against break-ins and defend your property, family, and peace of mind.
Live View. Live Answer.
Answer the door without being home.
With our advanced video doorbell cameras, you'll be able to see who's at the front door and stream live video with two-way voice. The possibilities of a video enabled doorbell allow you to know the exact time packages are delivered or visitors arrive and leave. With the addition of a Smart Lock you can not only greet your guests, but also unlock the door for them using the app — from anywhere.
Whether you're in the backyard or halfway around the world, peace of mind is always at your fingertips.
Alerts & Notifications.
Full control, from the palm of your hand.
Backed by the power of Alarm.com, we've equipped your security system with the ability to easily arm, disarm, and check which doors or windows are open from the mobile app.
Backed by the power of Alarm.com, you're equipped with the power to check every aspect of your security from the mobile app.
You'll be notified of issues at home – no matter where you are.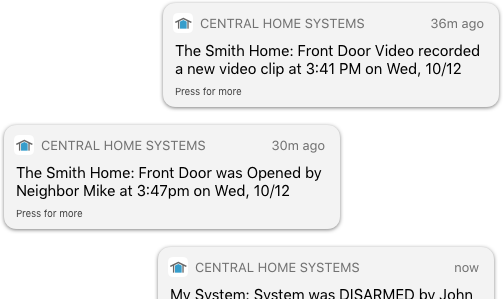 Environmental Monitoring
Ready for the unexpected.
Water, Fire, Gas, and Climate are among the greatest threats any modern home faces from within.
Planning ahead with smoke detectors, sump and water sensors, and deadly gas detectors can save you thousands and maybe your life.
Fire, Smoke & Gas Detection
When a fire starts in a home, it can be disastrous in mere minutes. Whether the cause is an open flame left unattended, an oven, fireplace or faulty electric. Fire can be detected early-on through smoke detector or heat detectors which can warn you before it causes lasting damage to your home.
Climate & Temperature
Excessive heat, or freezing temperatures can overheat or ice-over sensitive electronics. Heaters and Air Conditioners are not guaranteed to run indefinitely, and those moments of downtime can occur at the worst of times, causing damage to your electronics and pipes. With a smart thermostat you'll know the moment your climate control has been compromised
Water Control & Prevention
A leaky pipe or faucet can cause extensive damage over time, but with the addition of smart shutoff valves we help prevent the spread of water and put you back in control. We also monitor sump systems to prevent basement flooding, sending an alert the moment you need it most. Even miles from your home, you can retain control, and peace of mind.
Based on your space and your needs, we help you determine what Security & Surveillance options work best for you. Let's build a custom security solution together that helps you protect what matters most.